Welcome to Stolbrat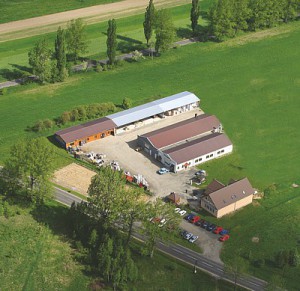 "STOLBRAT" Sp. z o.o. is medium sized company acting in construction and woodwork industry. The company was settled by three brothers in 1995 year, as a civil partnership company. However, as a result of high sales, turnover and enlarged assets, partners decided to change the legal status of a company to limited liability company (Sp. z o.o.) on April, 2008, according to The Commercial Companies Code, art. 551 § 2. As a result of this, only legal form of our business entity was changed.
The seat is located at 4.2 acres (17,000 m2) of land, with two modern factory floors equipped with social room for employees, the office room for woodwork shop management, warehouse shelters, the office/retail building. All premises were constructed in 1995 year. The company wants to hold its market position, therefore implements innovations in production technologies. The company has modern woodwork machine park, construction equipment and construction heavy machines, including means of transport for construction works.
"STOLBRAT" Sp. z o.o. is a production, service and trade company. We offer manufacturing and production works for the refurbishment and general renovation of standard and historic buildings, erection of "turn-key" houses, construction of production halls and sport's halls, sport's pitches, including roofing and carpeting works. The company's carpentry production covers windows, doors, staircases, storefronts and church furnishing of any type.